"An essential course for anyone working with kimberlites,
whether new to the industry or `well-seasoned`.
I wish I had taken this course a long time ago!"
Jennifer Burgess, VP Exploration, Shear Diamonds Ltd.
"This course is worth its weight in diamonds."
Mike Johnson, Senior Geological Consultant, SRK Consulting Canada Ltd., formerly Director of Operations, Tahera Diamond Corporation
"Very effective."
Kelly Russell, Professor of Volcanology, University of British Columbia
"The rocks are now talking to me with some sparkling effects."
Volodymyr Zhuk, Diamond Geologist, Stornoway Diamond Corporation
"Such an amazing rock collection."
Scott Parsons, Project Geologist, Northern Superior Resources;
currently Kimberlite Geologist, Ekati Diamond Mine
Learning About Kimberlites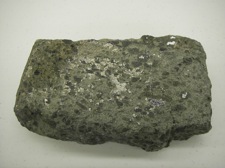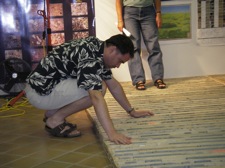 Kimberlite geology is the foundation of diamond mining and exploration. Kimberlites are unusual, complex and difficult to understand especially based on publications. Scott-Smith Petrology Inc. now offers unique opportunities to learn about kimberlites built on the extensive experience and expertise of Barbara Scott Smith combined with the ever growing rock collection which currently includes: more than 3500 samples from more than 20 countries and some full drillcores with most major diamond mining areas around the world and more than 100 bodies across Canada represented.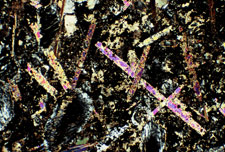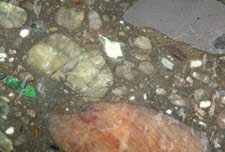 Through the examination of rocks on all scales, megascopic, macroscopic and microscopic, participants gain a "hands on" understanding of the diverse topics and their application to real-world situations. The focus of all Scott-Smith Petrology Inc. courses is on the practical application of kimberlite geology to the diamond industry providing an insight into the potential of rocks and maximizing the value of drillcores.
Courses: Kimberlite Basics 1 is an established and popular 2 week course which provides the foundation. A variety of further "Basics" and "In Depth" are also available. In addition more flexible and customized client-specific courses are provided upon request.
Coaching and Mentoring: One-on-one or small group mentoring develops partnerships with participants to guide the understanding and interpretation of client project geology.
Download Course Information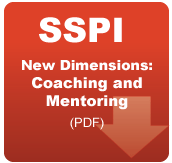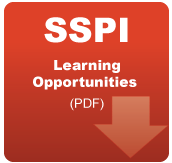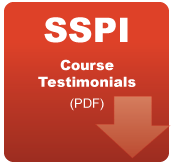 Purpose of courses and mentoring is to:
facilitate "hands on learning" to advance the skills and increase the effectiveness of geologists on diamond-related projects
fast track an understanding of kimberlite geology for direct practical application in the diamond industry
maximise the value of drillcores, related data and materials
assist field or project geologists and managers recognise the value, complexities and methodology of kimberlite geology in exploration, evaluation and mining
participate in the development of specialists to undertake a higher level of kimberlite geology during mineral resource development or research
contribute to ongoing professional development and accreditation
foster a passion for kimberlites
Who should attend: Anyone in the diamond industry especially exploration, evaluation, mining and kimberlite geologists.
Number of Participants: Maximum of three persons, each utilising one work station comprising a research level petrographic microscope, a binocular microscope and an ergonomic chair.