"This course is worth its weight in diamonds. Enjoyable at every turn and an amazing experience of both rocks and knowledge."
Mike Johnson, Senior Geological Consultant, SRK Consulting Canada Ltd., formerly Director of Operations, Tahera Diamond Corporation
"An essential course for anyone working with kimberlites,
whether new to the industry or `well-seasoned`.
I wish I had taken this course a long time ago!"
Jennifer Burgess, VP Exploration, Shear Diamonds Ltd.
"The rocks are now talking to me with some sparkling effects."
Volodymyr Zhuk, Diamond Geologist, Stornoway Diamond Corporation
"You are an amazing teacher and the rocks are awesome – totally inspiring! "
Kimberley Webb, Principal Geoscientist, Mineral Services
"A brilliant course!! A "MUST" for any geologist in the diamond industry. An unbelievable collection of samples not accessible anywhere else."
Murray Rayner, Principal Geologist Resource Evaluation, Rio Tinto
"Thanks for the passionate way you taught us about kimberlites."
James Alexander, Mine Geology Manager, Victor Mine, De Beers Group
"Absolutely fabulous course, amazing samples, you have taught me so much."
Colleen Muntener, Project Geologist, Stornoway Diamond Corporation
"Very effective. Participants have access to the most extensive, private collection of kimberlite and related rock collection in the world."
J.Kelly Russell, Professor of Volcanology, University of British Columbia
"What a fantastic collection and a fantastic guide to lead us through it. A lifetime of experience is worth every cent. Thanks for offering such a valuable resource to the kimberlite world."
Alan Kobussen, Principal Geologist, Rio Tinto
"Thank you for an amazing journey through the world of kimberlites. You are an excellent teacher."
Yana Fedortchouk, Assistant Professor, Dalhousie University
"The best practical course I have ever taken. Thank you for sharing your knowledge and beautiful rocks."
Warren Riemer, Project Geologist Rio Tinto
Kimberlite Courses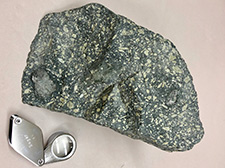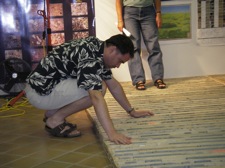 Kimberlite geology is the foundation of diamond mining and exploration. Kimberlites are unusual, complex and difficult to understand, especially based only on publications. Scott-Smith Petrology Inc. offers unique opportunities to learn about kimberlites built on the extensive experience and expertise of Barbara Scott Smith combined with the ever growing rock collection comprising more than 5000 samples from more than 20 countries as well as some full and diverse drillcores. Together the collection represents most major diamond mining areas around the world and more than 175 bodies across Canada.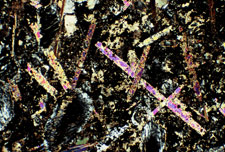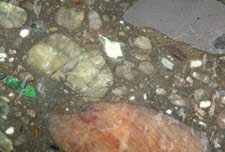 Through the examination of rocks on all scales, megascopic, macroscopic and microscopic, participants gain a hands-on understanding of diverse topics with a focus on the application of improved kimberlite geology skills to real-world situations. This assists field or project geologists and managers recognise the value, complexities and methodology of kimberlite geology. The learnings provide an insight into the potential of rocks leading to practical outcomes such as maximising the value of drillcores and increasing the degree of confidence in geological models for diamond projects. Fast-tracking the understanding of kimberlite geology increases the effectiveness of geologists to both industry and academic diamond-related projects while contributing to their professional development.
Who should participate: Any diamond industry professionals, junior to senior, especially those engaged in exploration, evaluation and mining as well as academics, graduate students to professors, interested in furthering their understanding of kimberlite geology. Adapted or custom courses cater to both geologists and non-geologists.
Courses
A variety of Introductory, Basics and In Depth hands-on courses focus on the evidence through developing observational skills followed by disciplined interpretation. The courses emphasise key concepts of kimberlite geology as they relate to diamond projects. Combinations of these courses can be tailored towards specific client projects and can be used for team building including aligning terminology (see A Glossary of Kimberlite and Related Terms).
Introductory
Introduction to Kimberlites covers the essence of kimberlite geology. Laboratory-based practicals involving ~82 samples from 9 countries including 26 diamond mines are introduced through lectures and the learnings applied to the interpretation of kimberlite geology, emplacement and economics. This course usually includes 4 instruction days over a 1 week period. This Introduction can (i) usefully precede, but is not a prerequisite for, Kimberlite Basics 1 (see below) or (ii) postdate Kimberlite Basics 1 as a refresher and to understand the recently rationalised kimberlite terminology presented in A Glossary of Kimberlite and Related Terms. Participants are provided with hard copy lecture notes and one copy of A Glossary of Kimberlite and Related Rock Terms.
The Basics
Kimberlite Basics 1 - "The Foundation" is the well-established and most popular course which covers the fundamentals and provides the basis for other learning opportunities. The focus is kimberlite geology as applied from discovery through to mineral resource development. The course is approximately half lectures and half practical sessions. The practicals involve ~725 samples from ~150 localities in ~15 countries as well as a selection of full drillcores (41 of the localities derive from 28 mines) which are placed into context through lectures, handouts, reprints, tests, exercises, reviews and discussion. Topics include the nature of kimberlite and related magmas, recently rationalised terminology and classification, as well as emplacement processes and economics as used in exploration and the development of geological models for evaluation and mining. This course includes 8 instruction days over a 2 week period. The course package provided to participants includes hard copy lecture notes, practical handouts, and one copy of A Glossary of Kimberlite and Related Rock Terms. Together, these provide participants with an unparalleled post-course reference resource.
Kimberlite Basics 2 to 4 cover some of the fundamentals in more detail with a focus on the economic implications and application of kimberlite and related rock geology. There is no particular order to these courses and they typically comprise up to 4 instruction days over 1 week.
Kimberlite Basics 2 – Economic Implications of Magma Type: Kimberlite and Related Rocks covers common magma types encountered during diamond exploration, their recognition, geology and diamond potential.
Kimberlite Basics 3 – Economic Implications of Kimberlite Emplacement covers contrasting types of kimberlite emplacement processes and products.
Kimberlite Basics 4 – Economic Kimberlite Geology covers how to investigate kimberlites from logging to the development of geological models including sampling, petrography, point counting and dilution.
In Depth
In Depth courses further explore specific topics and their application to diamond projects. Topics include (i) particular 'related rock' magma types (e.g. lamproites, melnoites), (ii) particular kimberlite body-types and their infills including Hypabyssal Kimberlites and Kimberley-type Pyroclastic Kimberlites (HK/KPK), Fort à la Corne-type Pyroclastic Kimberlites and Extrusive Coherent Kimberlites (FPK/ECK), and (iii) specific geographic areas. These courses typically comprise up to 4 instruction days over 1 week and are commonly customised to meet client-specific learning or project goals.
Custom Courses
Courses can be developed or adapted to address specific client goals and/or particular audiences, both geologists and non-geologists. For geologists these courses typically overview or focus on different aspects of economic kimberlite geology as used during diamond exploration, evaluation and mining. There are a range of other possibilities and two examples include: (i) interactive thematic workshops which also improve and practice technical presentation skills and encourage scientific debate and (ii) writing and critiquing publications and internal documents to foster sound technical analysis, rigorous interpretation and good reporting practice. Programmes can also be devised for geologists to undertake a higher level of kimberlite geology. For non-geologists (e.g. managers, mining staff, analysts), courses commonly highlight the importance and essence of economic kimberlite geology, including methods and applications. Custom courses generally range from 1 to 4 days of instruction over a one week period and can be held at SSPI, client facilities or conference meeting rooms.
Coaching and Mentoring
One-on-one or small group coaching and mentoring is typically client-specific and develops partnerships with participants to guide the understanding and interpretation of client project geology. Coaching and mentoring is often used to reinforce and enhance the learnings as well as the practical application of the skills gained during courses. Some coaching and mentoring can be undertaken at client facilities.
Learning Facility
The North Vancouver dedicated facility includes a rock room (for practical layouts) and a laboratory/lecture room containing three petrographic workstations each with research level binocular and polarising microscopes and a separate area for drillcore layouts. Catering to small groups, the facility is designed to encourage personal interaction.
Number of Participants
Most activities have a maximum of three persons (expandable to four persons in certain circumstances), each utilising one petrographic work station with an ergonomic chair.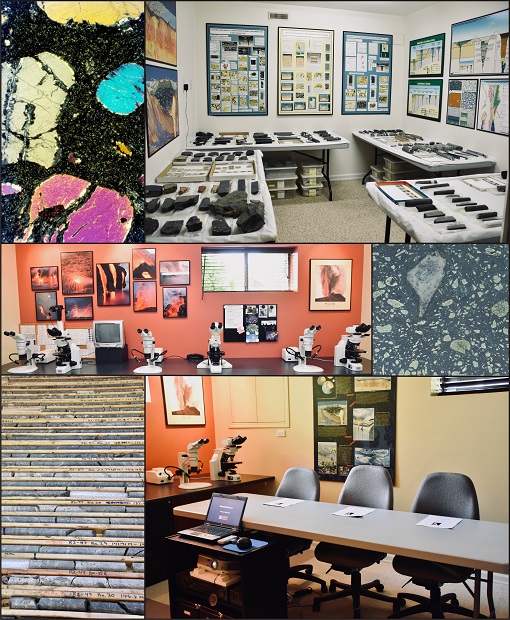 SSPI School Contributors
None of these kimberlite courses would be possible without the many contributors of rocks and other materials.
Individuals
Steve Bergman
Sergei Besborodov
Alan Campbell
Ray Cas
Ken Collerson
Howard Coopersmith
Jim Crawford
Bobby Danchin
Peter Danchin
Barry Dawson
Buddy Doyle
Richard Dumanne
Don Duncan
Roy Eccles
Georgina Eden
Dave Eichenberg
Russell Eley
Yana Fedortchouk
Derek Fullerton
Ian Graham
Herman Grutter
Barry Hawthorne
Kate Hepworth
Casey Hetman
Jaana Hode Vuorinen
Peter Holmes
Robin Hopkins
Tony Irving
Bruce Jago
Jaroslav Jakubec
Bram Janse
Bryon Jones
Melissa Kirkley
Maya Kopylova
Peter Kresten
Ulrich Kretschmar
Tony Lecheminant
Christopher Leslie
Jacques Letendre
Katya Masun
Shanker Mathur
Tom McCandless
Mal McCallum
Gennen McDowall
Roger Mitchell
Jillian Moore
Rory Moore
Stephen Moss
Neil Novak
Tom Nowicki
Garnet Peterson
Lucy Porritt
Murray Rayner
Jock Robey
Anatoly Rotman
Mike Skinner
Andrei Sinitsyn
Brian Smith
Stuart Smith
George Stewart
Albert Thamm
Kimberley Webb
Vladimir Zuev
Glynn Woodward-Jones

Corporations
1st to 11th International Kimberlite Conferences
Aber Resources Ltd.
Alberta Geological Survey
Almazy Russia-Sakha Co. Ltd.
Argyle Diamond Mine
Ashton Mining Ltd.
Ashton Mining of Canada Inc.
Barker Minerals Ltd.
BHP Billiton Diamonds Inc.
BHP Billiton World Exploration Inc.
Blue Rock Diamonds plc
Cameco Corporation
Camphor Ventures Inc.
Canamera Geoscience
Central Kola Expedition
Churchill Diamond Corporation
Claude Resources Inc.
Dalhousie University
De Beers Canada Inc.
De Beers Consolidated Mines Ltd.
De Beers Group Services (Pty) Ltd.
Debswana Diamond Company Ltd.
DHK Diamonds Inc.
DiamonEx Limited
Diavik Diamond Mines Inc.
Ekapa Mining (Pty) Ltd.
Everfor Diamonds Plc.
GGL Diamond Corporation
Geological Survey of India
Helam Mine, South Africa
Hudson Resources Inc.
Hunter Exploration Group
I & M Morrison Geological Services Ltd.
Kennecott Canada Exploration Inc.
Kensington Resources Ltd.
Kettle River Resources Inc.
Kimberley Diamond Co.
Kresten Geodata
KWG Resources Inc.
Letseng Diamond Mine
Lipari Mineracao Ltda.
Lucara Diamond
Majescor Resources Inc.
Mountain Province Diamonds Inc.
National Geophysical Research Institute (India)
National Mineral Development Corporation Ltd. (India)
North Arrow Minerals Inc.
North Australian Diamonds Limited
Northern Superior Resources Inc.
Nunavik Exploration Fund
Olenegorskaya Mining and Geological Company
Paragon Diamonds Ltd.
Peregrine Diamonds Ltd.
Petra Diamonds
Rio Tinto Group
Savannah Diamonds Ltd.
Shear Diamonds Ltd.
Shear Minerals Ltd.
Shore Gold Inc.
Simon Fraser University
Spider Resources Inc.
Stornoway Diamond Corporation
Strongbow Exploration Inc.
Superior Diamonds Inc.
Tahera Diamond Corporation
Trade Winds Resources Ltd.
Uranerz Exploration and Mining Inc. (UEM Inc.)
University of British Columbia (EOS)
University of Stockholm
Vaaldiam Resources Ltd.
Williamson Diamonds Ltd.